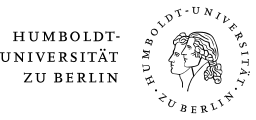 Recommended Classes
Students who seek to specialize in climate geography and to build on particular expertise within this field, we advise to attend classes offered by the Climate Geography Section and, within the free elective part of their studies, to attend classes on scientific fundamentals (physics, agricultural sciences, biology, chemistry, mathematics) and especially classes on computer sciences/programming, preferably covering open source tools like R/R Studio. In addition, classes offered by the Department of Ecology and its section Climatology of TU Berlin and the Department of Meteorology of FU Berlin are suggestive and admissible within the free elective parts of the study programmes. Furthermore you should build on competences in statistics, GIS, remote sensing (geomatics), landscape ecology and biogeography as well as in the field of pedology and geomorphology.
We entrust the following modules to you:
Within the bachelor programme Geography (offered in German)   
Studienprojekt mit geländeklimatologischer Ausrichtung (study project with topoclimatic focus; often winter semester)
Studienprojekt zur Stadtklimatologie und Luftqalität (study project on urban climatology and air quality; summer semester)
Vertiefungsmodul zu regionalen Klimatologie oder spezifischen Aspekten der Klimatologie (specialisation module on regional climatology or specific aspects of climatology; often winter semester)
Studienprojekt zur Klimamodellierung (study project on climate modelling; often winter semester)
Module zur Hydrologie (Nützmann) (modules on hydrology)
Bachelor thesis focussing on topics in climatology, potentially in cooperation with the Potsdam Institute for Climate Impact Research, other sections within the Department of Geography here at Humboldt University or another non-university research institute such as the Alfred-Wegner-Institute for Polar and Marine Research or der Institut für Gewässerökologie und Binnenfischerei (Institute for Reshwater Ecology and Inland Fisheries).
Within the master programme "Global Change Geography"
Module 2: Climate and Earth System Dynamics (winter term)
Module 5.1: Field Observation in Climatology and Hydrology (summer term)
Module 7/8: Introduction to climate modelling (every no and then, winter term)
Module 7/8: Specific hydrology (every no and then, summer term)
Master thesis: Master thesis in the field of Climate-Geography, optionally in co-operation with the Potdam Institute for Climate Impact Research (PIK) or other sections of the Department of Geography or other research institutes (see above for information given for the bachelor thesis).