Entwaldung ohne Mehrproduktion? Eine Analyse zur Änderung der Landnutzung und der landwirtschaftlichen Produktion im Südamerikanischen Chaco
Lena Furch
In South America, the expansion of agricultural land into natural environments is one of the main reasons for deforestation. Wide areas are converted into agricultural and pastureland and in some regions, these are mainly used for soybean production or cattle farming. Throughout the last decades and under the influence of globalization, market liberalization, improvements in transportation systems as well as the influence of foreign investors, consumers and most notably the growing meat industry, a "soy boom" took place at the sites of production. This resulted in considerable land use and consequently land cover change across the South American continent.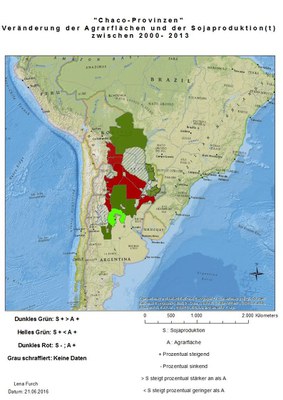 Especially the South American dry forest Gran Chaco became a global hotspot. Both, its natural environments and its agricultural areas are undergoing significant changes, while it is also amongst those regions with the largest increase in soybean production, most notably on its Argentinean side.
As a result of the various actors as well as the direct and indirect influences that are responsible for the high rates of deforestation and the rapid land-use change, the relationship between productive area and production may have changed.
The study seeks to examine and evaluate this relationship, in order to answer the question of whether or not deforestation is occurring in the Gran Chaco without a subsequent increase in production and to illustrate how this potential discrepancy between land use and production evolved both spatially and temporally (exemplified in the graphic).
German version:
Die Expansion der Landwirtschaft in natürliche Gebiete gehört zu den Hauptgründen der heutigen Entwaldung. Hierdurch entstehen große Agrar-und Weideflächen, die in einigen Regionen meist als Sojaanbauflächen bzw. zur Rinderzucht genutzt werden. In den letzten Jahrzehnten hat die Globalisierung mit der Liberalisierung der Märkte, den besseren Transportmöglichkeiten und den Einfluss ausländischer Investoren und Konsumenten auf den Produktionsort den "Sojaboom", vor allem durch die Fleischindustrie verursacht. Dadurch veränderte sich die Landnutzung und mit ihr die Landbedeckung in Südamerika stark.
Vor allem der Südamerikanische Trockenwald, Gran Chaco, ist zum globalen Hotspot geworden. Der Gran Chaco erfährt große Veränderungen der natürlichen Flächen, wie auch der Nutzflächen und gehört unter anderem zu den Regionen mit den größten ansteigenden Sojaproduktionswerten, vor allem im argentinischen Teil. Durch die vielen Akteure und direkten und indirekten Einflüsse, die für die hohen Entwaldungsraten und den schnellen Wandel der Landnutzungsflächen verantwortlich sind, ist das Verhältnis zwischen Nutzfläche und Produktionsgut möglicherweise verschoben worden.
Die Arbeit möchte dieses Verhältnis untersuchen, um es anschließend zu bewerten und die Frage zu beantworten, ob eine Entwaldung ohne Mehrproduktion im Südamerikanischen Gran Chaco zu verzeichnen ist und wie sich diese mögliche Diskrepanz zwischen Landnutzung und Produktion regional und zeitlich darstellt.