First pictures from our camera traps!
We recently purchased 40 camera traps to monitor wildlife activity. Check out some fascinating pictures from testing these cameras in Central Romania and Southern Sweden!
Thanks to the support by Humboldt-University Berlin, we recently purchased 40 Bushnell camera traps (trail cams). These cameras are equipped with motion / heat detectors and take regular photos or videos during daytime, and infrared photos or videos during the night. These camera traps will be used in a range of projects, from the Chaco in Argentina to the Caucasus Mountains in Eastern Europe.
A first application of our camera traps is a project led by Ine Dorresteijn and Joern Fischer from the University of Lüneburg in Transylvania in Central Romania, where the goal is to monitor large carnivore activity, specifically of brown bear and wolf, in order to better understand how large carnivores may conflict with livestock herding (especially of sheep). This project is ongoing, but check out some of the fascinating first pictures the camera traps have been yielding: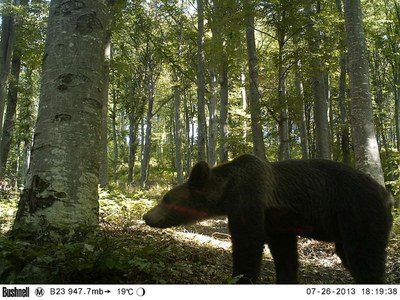 A second location where we have been testing our new camera traps is southern Sweden. Have a look at some of the wildlife pictures we got there (with special thanks to Arne Elowson for allowing us to set the camera up in his forests).