CLEARING HOUSE - Collaborative Learning in Research, Information-sharing and Governance on How Urban tree-based solutions support Sino-European urban futures
Description and objectives
Trees and forests are a proven nature-based solution that contribute to sustainable urban
development. Their potential for delivering ecosystem services, enhancing biodiversity and contributing to the wellbeing of urban societies is often underestimated and underused. CLEARING HOUSE provides evidence and tools that facilitate mobilising the full potential of urban forest-based solutions (UFBS) for rehabilitating, reconnecting and restoring urban ecosystems. UFBS comprise every measure a city can take to address urban development challenges by deploying tree-based ecosystems.
CLEARING HOUSE will review existing knowledge and will collect new data from large scale analyses as well as evidence emerging from the comparative analysis of ten case studies in Europe and China. Knowledge will relate to the social, economic and policy drivers of UFBS, their design and implementation, and their impacts on urban ecosystem and human wellbeing across continents. By relying on early adopted co-design and citizen science approaches, CLEARING HOUSE will ensure that its research programme exactly fits the demand of end-users, and engages stakeholders and scientists in problem-oriented knowledge generation. On the basis of this knowledge, CLEARING HOUSE then develops user-targeted outputs to support cities, planners, business and civil society in implementing UFBS, including online decision-support applications, benchmarking tools, and guidelines on the design, governance and management of UFBS, and on sustainable business models relating to them. Target group specific communication and dissemination activities complement the project. These include Sino-European science-policy symposia and measures reaching out to citizens including school children.
Project structure
WP1: Reviewing knowledge & developing the analytical concept;
WP2: Conducting the comparative case study analysis;
WP3: Establishing the collaborative learning process;
WP4: Synthesising knowledge, developing tools and piloting solutions;
WP5: Communicating and disseminating CLEARING HOUSE;
WP6: Managing CLEARING HOUSE;
WP7: Ethics requirements.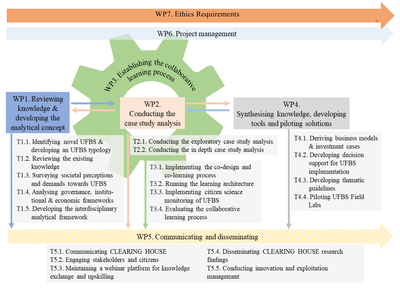 The overall concept of CLEARING HOUSE.
Project network
The CLEARING HOUSE project consortium consists of 26 international partners, including the European Forest Institute as project coordinator, the Research Institute of Forestry-Chinese Academy of Forestry, Fundacja Sendzimira, Vrije Universiteit Brussel, Humboldt-Universität zu Berlin, Centro de Investigacion Ecologica Y Aplicaciones Forestales Consorcio, Universytet Lodzki, LGI Consulting, Universita Degli Studi di Bari Aldo Moro, Luonnonvarakeskus, Universität für Bodenkultur Wien, Hrvatski Sumarski Institut, Beijing Forestry University, Fujian Agriculture and Forestry University, Guangzhou Institute of Forestry and Landscape Architecture, Zhejiang University, Shenzhen Fairy Lake Botanical Garden, Institut Bruxellois pour la gestion de l'environnement-Brussels Instituut voor Milieubeheer, Gmina Miejska Krakow – Miasto na Prawach Powiatu, Area Metropolitana de Barcelona, BOS+ Vlaanderen VZW, Vlaams-Brabant, The University of Hong Kong, Stadt Gelsenkirchen, Association Mondiale des Grandes Metropoles, and Union Internationale pour la Conservation de la Nature et de ses Ressources.
Humboldt-Universität zu Berlin in the CLEARING HOUSE project
The Humboldt-Universität zu Berlin will be leader of WP1 "Reviewing knowledge & developing the analytical concept" and is involved in several tasks as leader and co-leader, including the development of the online decision support and benchmarking tools and communication and dissemination.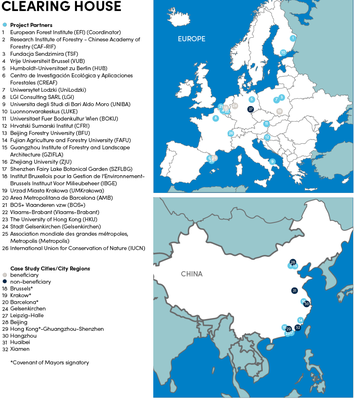 CLEARING HOUSE partners.

Funding and duration

The duration of the action will be 48 months as of 1 September 2019. This project has received funding from the European Union's Horizon 2020 research and innovation programme under grant agreement No 821242.